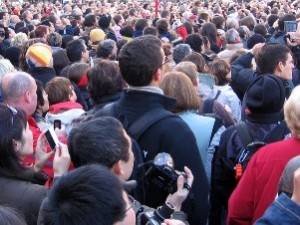 The first thing to do when you launch a new blog is to produce content. You've been told that 'content is king' and as long as you produce 'excellent pieces of content' traffic will come. Well, sorry, but attracting traffic is not that straightforward.
A lack of traffic is one of the most common challenges in online marketing. Even when you have lots of traffic, you always want more. Excellent content can certainly increase your chances of getting eyeballs on your blog.
Here is a list of seven content types that have worked for Receptional or our clients. They can also work for you:
Flagship Content
Chris Garrett, Chief Digital Officer at Copyblogger coined the phrase 'flagship content' and it is one of my favourite terms to describe must-read content.
If you want people to read, share and come back to your blog – then you have to give them an incentive.
Creating substantial, useful, content incentivises visitors to return to your blog. These 'meatier' pieces of content will take a greater deal of effort to create, but visitors will bookmark and refer to this content more than once. Flagship content creates a great impression – and establishes trust with your audience. Trust is essential if you want to turn your readers into customers.
An example is Copyblogger's Ultimate Guide to Twitter Marketing. This guide lists everything you need to know about Twitter and how to use the social network successfully. It has been painstakingly researched. It contains hundreds of links to external resources and has amassed 3,400 shares on Twitter.
The benefit of flagship content is that it attracts new users and repeat visitors time and time again. It doesn't have a shelf-life.
Flagship content is easy to promote. Producing these pieces and promoting them to your existing and new audiences, perhaps via social networks, guest blogs or aggregators, will help you maximise your blog's potential.
If new visitors to your blog see these posts, they can then bookmark your blog, signup to your newsletter or follow you on Twitter. Instead of just reading one page of your website they will visit time and again. So it is crucial that sign up forms are placed in a prominent position on your site to encourage visitors to engage with your brand collateral.
Tutorials and "How To" Guides
Tutorials and 'how to' guides can be a lucrative form of content. The phrase "how to…" is a popular search term that can lead to lots of long tail search traffic. Google's Keyword Planner will help to give you some idea of the keyword popularity and suggestions in your niche.
For example, if you run a crocheting blog and you want to write articles about how to crochet, you could do a quick search on Google's Keyword Tool using "how to crochet" and you'll be presented with a variety of crochet-related terms with their monthly search volume.
Based upon the monthly search volumes, instead of writing an article about how to crochet Granny Squares this week, you might decide to create a step by step tutorial on how to crochet a blanket. These types of articles are generally longer pieces than your average blog post. You might include step-by-step pointers, images or video content as these formats are easily digestible.
Making your tutorials and 'how to' guides as thorough as possible encourages visitors to share your tutorials. Tutorials can also be used to collect email addresses – simply ask visitors to enter their email address before downloading your tutorial.
A great example of a how to article on our very own website is our 'How to recover from Google Penguin' tutorial, which is summed up in the title – our guide to helping you recover from a Google penalty.
Our tutorial was published back in April 2013 and remains popular in today in attracting new readers to our blog.
Interviews
Conducting an interview or a series of interviews with authoritative people in your industry can lead to followers of those personalities picking up your work and sharing it with their audience.
Quotes from these interviews could lead to your content being referenced and linked to from external websites. Also, interviews can bring an element of trust and respect.
Interviews help you create unique content – you're providing an original source of insight. So, should the interview, snippets from the interview, or a quote be picked up elsewhere, sites should cite your interview as the source.
Back in 2013, Google's Head of Webspam, Matt Cutts was interviewed by Eric Enge, an SEO consultant at Stone Temple Consulting. Cutts provided insights into Google's views on link building and creating an online presence. Perhaps ironically, the interview itself generated more than 7,000 links to the Stone Temple website.
A shout out from your interviewee, perhaps via their blog or social media, can also drive traffic to your site. Once the article's published, send a polite email to the interviewee notifying them. Encourage them to link to or Tweet the article and respond to any comments or questions it generates.
Data
Ah data, the thing I love the most. Well, almost. There is so much potential data out there and it's a great for generating unique content. Gathering and analysing data, then sharing your findings, can be a great way of creating a story and attracting traffic to your website.
On top of this, data can help provide referrals and citations to your work, build trust and help establish some authority in your field.
For example, if you're able to provide accurate data in your niche that may not have been covered before or updated for a while, you're the only source that users will want to find.
If you're in a competitive field, such as sports journalism, it can be difficult to stand out from the crowd. This table of Premier League manager statistics takes information already in the public domain, collates it, and analyses the results. It provides a unique insight into an everyday subject.
Additional content could come from the back of this data set – for example, 'X manager has best winning record in the Premier League', 'X (country) provide the most successful managers in the Premier League' or 'X manager has lost the most games in the Premier League'.
As well as this, the content could be presented in another way – a series of graphs, an infographic or even as a presentation.
People love to share data. Making your data unique, or simply fresh, helps makes it enticing. Be sure to consider how you present it – tables, charts and graphs can all be engaging.
Case Studies
A case study, such as a detailed explanation of how you are helping your clients, can be a great sales piece as well as being useful for converting visitors.
By producing a case study, you're basically saying "here's what we did, how we did it and what was achieved as a result of it."
Presumably your company will have had a number of success stories to tell your audience about: regularly updating and maintaining a case study section on your site helps to generate organic leads and pull website visitors through the sales cycle because you're showing them your technical and commercial skills.
Earlier this year, eConsultancy published a list of 10 case studies to show the power of email marketing. This turned out to be one of their most-shared blog posts across social media, and would make a great sales piece for email marketing if eConsultancy offered that as a service.
Everyone likes to read a 'success story' don't they? People often like to see previous results of what they're about to invest in, particularly if they're about to spend a significant sum of money. So why don't you create a case study to show your readers what you can do…?
Lists
One of the most popular forms of content are list articles.
Lists make great page titles in the SERPs and busy people (namely everyone who uses a search engine) is drawn to the list format because they know exactly what they're going to get when they click through. You will also find list articles being widely shared on social networks because their succinctness resonates with the skim-reading habits of social media users.
We used a list approach for this article's headline: "7 Ways to Drive Traffic to your website" looks more appealing than "Learn how to drive traffic to your website" doesn't it?
This isn't the first list on the Receptional website we have produced either. Last month, I published a list article titled: '5 Content Types That Always Get Links'. The list produced one of the highest open rates and click-through rates in our newsletter this year.
An example of a website that built its name and reputation from lists is BuzzFeed. Buzzfeed made a successful business that essentially features list blog post after list blog post. Of course, they are humorous, too – the creators found a content style that appealed to a mass audience.
Buzzfeed homepage
(Free) eBooks
Producing an eBook can help strengthen your authority in your given field and is a powerful way of increasing your exposure.
You will need enough content to make your eBook compelling – several thousand words usually does the trick, but you may not need to write that much. Quality counts more than quantity.
If you have lots of content, separate your eBook into chapters so that it is easily digested.
Likewise, colours and images are also an important factor to take into consideration when you're producing your eBook.
The latest free eBook from Receptional is our In-depth Guide To SEO Accessibility. We spend several days producing this across a few different members of our team before we come up with the final product.
People love valuable information, particularly when it is free. And when the information is as in-depth as it is the expectation with eBooks, then users can be more inclined to download it.
An eBook is another good tool to make available to your viewers in exchange for them subscribing to your mailing list.
Resource Blogs/Roundups
Producing a resource blog or roundup can be great for an initial burst of traffic and social shares onto your website.
Generally, these roundups will have a combination of authoritative sources in your industry and the best content (from that day, week, month or subject).
An example of this is the roundup posts we do at Receptional after attending SEO events. Our latest was 76 Tips from the 2014 Content Marketing Show. This piece quoted comments by each of the speakers at the event and after we published it last month it received more social shares than our average blog post.
Another example in the SEO community comes from Barry Schwartz who produces the daily SearchCap for SearchEngineLand.com. It features his favourite posts from our industry on a daily basis.
Creating a regular roundup published at the same time each week, can help attract repeat visitors.
Final word
Hopefully this list has helped you think of some new ideas for blog posts to drive traffic and interest to your blog.
There's so much potential with what you can do with content I am confident that these ideas will help you drive the traffic that you've been craving to your website. Why not get in touch with us to discuss your ideas?



Author: Barrie Smith
Courtesy: www.receptional.com